For 2020 edition of ISPO Munich from January 26-29, the fashion and textile fair dedicated to sportwear & athleisurewear, Roica has created an interactive booth inviting visitors to explore a backward path from final sportwear to yarn. The sustainable premium stretch fibre by Asahi Kasei, has conceived the exhibition as a 'reversed' journey in three acts.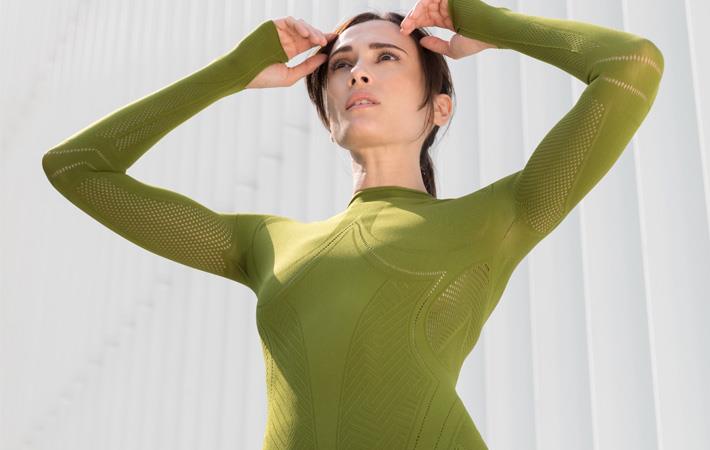 Pic: Asahi Kasei
At ISPO, Roica will present the new Global Recycled Standard -GRS- certified Roica EF which innovates with excellent dyeability and the Cradle to Cradle Material Health Gold level-certified Roica V550 yarn which allows excellent and durable printability.
The 'reversed' journey: the first section of the backwards path will showcase Roica's ultimate collaborations for the contemporary wardrobe with leading brands. Guests will then be guided to explore the cutting-edge innovation interwoven into high- performing textiles and finally led to discover the company's sustainable yarns and ultimate products.
In the 'Wardrobe of Tomorrow', the journey will begin with the finish, that is the final products consumers can already find in shops or online. At ISPO, Roica teams have seleced five key collections by influencing brands they have been collaborating with in the past months. The collections are Ballet Rosa, Ecoperformer, Maloja, Scott Racing Team and Santini.
"On show, unique outfits already available in the market proving how Roica is able to deliver and transform basic performance stretch in eco hi-tech valuable innovations," said Hiroaki Shinohe, Roica chief marketing officer, Germany.
Ballet Rosa's mission is to provide its customers dance and ballet technical garments making it possible for the client to customise the product at his/her own needs and taste. The brand has chosen a unique article by Inter Jersey Milano containing Roica HP, belonging to the Roica Resistance family. This yarn enhances advanced stretch performances that last longer. The secret stretch ingredient that shapes comfort with quality, performance and fit, setting new standards for the contemporary technical dancewear.
The Ecoperformer by Confetil and Tintex Textiles, is part of the collaborative smart platform and research-lab CO.LAB aiming to create a new way of making fashion smart presented by Creativity Lifestyle and Sustainable Synergy (CLASS). The collection meets the values of millennials and generation z consumer. The collection comprises modern soft sports garment with fully transparent innovation values that add the smart stretch performance through Roica EF. The range flexes its muscles with the best sustainable and high-performative materials for comfort, ease and style.
Maloja, the outdoor speciality brand with its roots in nature and wellbeing, will be presenting several lines using Roica, wher it will showcase a new breathable and very stretchy Nordic and multisport jacket, as well as mountaineering pants, made with 'GreenSoul' technology fabrics from Miti, that blends together the GRS certified Roica EF responsible stretch yarn and environmentally-sustainable polyamide obtained from regenerated raw materials.
Tailored-designed outfit have been created for Scott Racing Team, the Italian Mtb Pro rider team born in 1988. As strategic partners, Rosti, Sitip and Roica teamed up to design a high performative active clothing featuring Roica premium stretch fibre. This collaborated fabric - BeHot - of Sitip not only insulates but generates up to 2 degrees celsius of heat as one workouts as certified by CeRism, Outdoor Sport Research Centre at Verona University. Long life stretch, superior shape retention and best breathability thanks to the Blizzard by Sitip fabric, ensures thermal comfort and easy care to the users.
Santini, founded in1965, designs and manufactures all of its products exclusively in Italy. Each item is designed and developed by a designer team with deep-rooted passion for the two-wheel world to meet four key requirements: fit, performance, comfort and durability. Santini is deeply committed to ongoing investment in researching and developing innovative textiles and new production methods.
On show will be, the Race team Trek-Segafredo t-shirt with front and back made out of the 'Eco Bicimania' - branded 'Native' by Sitip that blends together with Global Recycled Standard -GRS- certified polyester and Roica EF. Perforated mesh fabric, light, soft and elastic that guarantees excellent breathability and maximum comfort. The shorts Trek Segafredo are made of 'eco thunderbike power' branded Native' by Sitip, using Global Recycled Standard -GRS- certified polyamide and Roica EF.
Visitors at the Roica Innovation Gallery can get inspired and discover the company's textile performance innovations library thanks to special solutions from Roica key partner mills. On show will be a wide fabric range that includes smart fibres, belonging to Roica Eco-Smart family comprising two responsibly made yarns. Made with 58 per cent of pre-consumer recycled content, the Roica EF comes with the Global Recycled Standard - GRS - certification by the influential Textile Exchange, one of the most known and recognised global organisations in the market.
As proved by Hohenstein Environmental Compatibility certification, the Roica V550 was engineered to smartly break down without releasing harmful substances in the testing environment. The yarn offers additional and relevant circular economy advantages linked to material health as proved by a Gold Level Material Health Certificate by the Cradle to Cradle Product Innovation Institute for biological cycle.
The revolutionary Roica Eco-Smart family together with Roica Feel Good family of stretch fibres are designed to support performance and creativity. There are many notable developments signed by Roica premium partners.
Cifra will introduce high performing concept garments with exclusive, elegant and functional designs, developed with the WKS knitwear technique, that can be divided into three smart families: GRS certified Roica EF in blend with Q-Nova environmentally-sustainable nylon 6.6 fibre obtained from regenerated raw materials, Roica V550 with Econyl regenerated polyamide from Aquafil, and Roica DS with polyamide 6.6.
Iluna will present a new concept-collection featuring Roica EF and treated with natural dye-stuff. The fabrics will build a yoga capsule collection tuning with the new wellbeing trends and lifestyle.
Inter Jersey Milano will present unique blends that mix two GRS certified ingredients, Q- Nova with Roica EF, as well as solutions created with the end of life in mind that mix Amni Soul Eco and Roica V550. Amni Soul Eco's secret is its enhanced polyamide 6.6 formula, developed by the research efforts of the Rhodia-Solvay group, which enable garments to quickly decompose when they are discarded and left in landfills.
'Altitude Bio' a brand-new development signed by the French Payen, mixes premium Roica V550 with polyamide. Altitude Bio is a light four way stretch woven fabric, with a delicate handfeel. With a weight of only 90 g/m², the fabric is super durable and resistant to abrasion. On top of that it dries very fast and can be treated with DWR.
Tintex's new developments blend Roica Eco- Smart family with other smart fibres such as Q-Skin, GOTS certified organic cotton Newlife, Q-Nova, and Texloop.
The interactive journeys will be completed with the Roica 'Heritage' space showcasing the latest innovations at fibre level. Here the next level of innovation will take centre stage, highlighting how a fibre's cutting-edge feature can become a propeller for responsible innovation for the wardrobe of tomorrow.



note:
this information is from the
globaltextiles
,for reference only
If you want to contact us for copyright infringement, we will delet the content in time