Pantone LLC has announced the Pantone Fashion Color Trend Report SS 2020 edition for New York Fashion Week. Published for the fashion industry by Pantone Color Institute, this season's report features top 12 stand out colours and current takes on 4 classic neutrals expected to be seen on the runway as fashion designers introduce their new SS collections.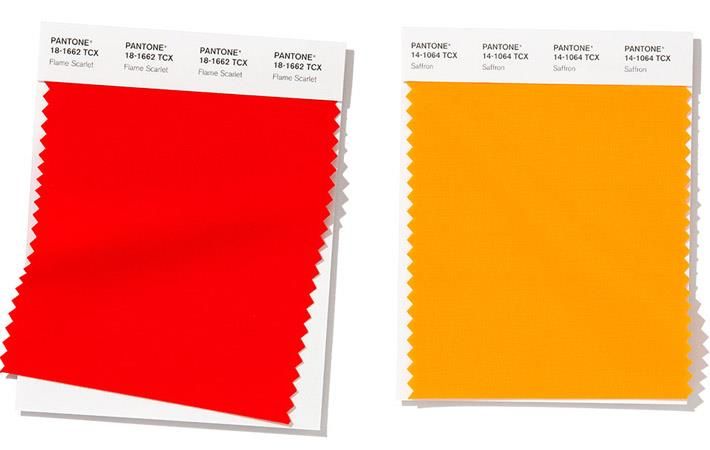 Flame Scarlet (L) and Saffron (R); Pic: Pantone LLC
"Colours for Spring/Summer 2020 New York, express our desire for a sense of the familiar. Friendly and relatable, a palette of colours that conveys a sense of ease. At the same time, in this era of personalised self-expression, this palette of recognised favourites uses the familiar to take some unique twists and turns highlighting elements of humour, modernity and entertainment," said Pantone Color Institute experts in a press release by the company.
"Combining our desire for stability, creativity, and more spontaneous design approaches, the colour palette for Spring/Summer 2020 infuses heritage and tradition with a colourful youthful updat that creates strong multi-coloured combinations as well as energising and optimistic pairings," said Leatrice Eiseman, executive director of the Pantone Color Institute.
To support the Pantone Fashion Color Trend Report for SS 2020 for NY and London, Pantone has partnered with Adobe Stock to curate a collection of images that reflect the palette of 12 top fashion colours as well as 4 core shades. With millions of visual assets, Adobe Stock is an amazing resource for creatives to seek visual inspiration and creative development.
Pantone is a global authority on colour and provider of professional colour standards for the design industries. (PC)



note:
this information is from the
globaltextiles
,for reference only
If you want to contact us for copyright infringement, we will delet the content in time