What is Denmin Fabric?
Denim became popular in 18th century for its aspects of durability and not easily torn which benefited physical laborers much. But now denim has become fashion trends. It is a symbol of modeling and modern culture. Denim has risen to be a fashion icon and is being adorned by fashion models. Young generation totally depends on denim clothing and denim based garments. In modern days wardrobe is incomplete without denim garments. Now different types of fashionable cloth for all type of people are made by different types of denim fabric.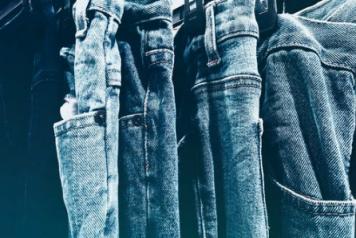 Denim Fabric Construction
Denim is made from rugged tightly woven twill in which the weft passes under two or more warp threads. Lengthwise, the yard is dyed with indigo or blue dye; horizontal yarns remain white. The yarns have a very strong twist to make them more durable, but this also affects the denim's colour.
The yarns are twisted so tightly that indigo dye usually colours only the surface, leaving the center of the yarn white. The blue strands become the threads that show on the outside of your denim and the white are the ones that make the inside of your denim look white. This produces the familiar diagonal ribbing identifiable on the reverse of the fabric. Through wear, the indigo yarn surface gives way, exposing the white yarn underneath which causes denim to fade. Jeans are basic 5 pocket pants or trousers made from denim.
13Different Types of Denim Fabric
1 100% cotton Denim
This is the normal denim which you can treat in many different ways to create the different types detailed below. This fabric is very durable, hard wearing and versatile.
2 Raw denim
This is a fabric which is not washed after dyeing . This washing is usually done so that the fabric becomes soft and also to eliminate shrinkage. Basically what we call in sewing as prewashing . This is also called unsanforized denim
Raw denim has a very even look without any of the distressed look we are familiar in jeans. Whatever distressed look is desired will have to be obtained naturally by fading and stress. This is a natural process which some people consider more desirable than the factory made distressed look. It is important that you prewash raw denim before sewing / wearing.
3 Sanforized Denim
This is denim fabric which is processed so that it does not shrink after wash. Most of the denim other than raw denim is Sanforized.
4 Colored denim
There are two types of coloured denim – blue and the rest of the colours. The blue colour or shades close to blue is given with a process known as indigo dying. Sulphur dying gives denim other colours like Black, pink, grey, mustard, green, red etc
5 Stretch denim
This is denim incorporated with stretchy synthetic fiber like lycra/ spandex which gives it stretch. The stretch of the fabric will depend on the percentage of elastane in it.
6 Selvedge Denim
This refers to the denim fabric with edges which are finished with a band which is usually of colour orange or red. It is also called self-edge or selvage denim. This denim is very popularly assumed to be of better quality than other denim. Japan is the top producer of this type of denim fabric .
7 Crushed Denim
This is a Denim fabric which is weaved and treated so that it looks permanently wrinkled or crushed.
8 Waxed reverse Denim
This is denim fabric which has a coating of wax on the reverse side for water resistance. It is mostly used to make outdoor gear and bags
9 Acid wash Denim
This is also called marble denim. This refers to a finish achieved in denim fabric using pumice stone soaked in chlorine. Colour of the fabric fades as a result of the abrasion with the stones and creates an attractive contrast with the indigo colour. The fabric is then rinsed, softened and dried You can get this effect at home on your jeans with some work – check out the post on 15 ways to distress jeans.
10 Poly Denim
This is Denim fabric with a percentage of Polyester fibers blended in it. This fabric is very soft to touch , very easy to care for and stretches to an extent; it is very much popular to sew jackets, shirts, hats . The polyester blend adds to the durability smoothness and finish of denim
11 Ecru Denim
Denim that has not been dyed indigo . This fabric has the natural colour of denim which is not dyed.
12 Bull Denim
This is a denim fabric which is very sturdy and tough because of its 3*1 twill construction. It is not as tough as canvas but it is very durable and heavy.Bull denim is used mostly for upholstery and home decor rather than for clothing
13 Thermo denim
This is also called double denim. This denim fabric has a lightweight fabric glued to the denim. This fabric makes the garment look like it is lined
Special note:
this information is from the
globaltextiles
,for reference only
If you want to contact us for copyright infringement, we will delet the content in time